Estuaries, as well as rias, correspond to arms of the sea penetrating in a river valley until the superior limit where the tide provokes a rise of the water level. These mouths are places of accumulation of sediments of river origin, which feed intertidal mud flats (slikke) appearing as almost flat, grey and gleaming areas.
The slikke is also present in the submersible salty swamps where the schorre represents then the part dressed in a vegetable coverage, covered only during the high spring water tides.
In estuaries, the tide presents a dynamic constituent which corresponds to the penetration of the wave of tide and a salt constituent corresponding to the raid of the sea water. This last one induces a gradient of the salinity. In the salty swamps, often gone through by one or several brooks, the effect is the same although it is less marked. Animals and plants
presents in estuaries and salty swamps thus have to be euryhaline, that is that they have to support variations of salinity of big amplitude. Indeed, in brackish waters, the species of marine origin tend to loss essential body salts whereas those of dulcicole origin tend to dehydrate. Besides the variations of salinity, the species living in these intertidal areas undergo violent variations of the illumination and the temperature.


In the South of
Finistere, the triangle Bénodet-Quimper-Fouesnant presents one ria -that of the river Odet- with three long digitations, a salty swamp -the Mer Blanche-
gone through by a little consequent brook and presenting a schorre
rich in puddles reached by the sea at the time of the high water spring tides, and a micro-estuary -the Anse de Penfoulic- gone through by waters from a ground marsh. It seemed to me interesting to try to establish an inventory of the epipelic diatoms (living on the mud) presents on these areas.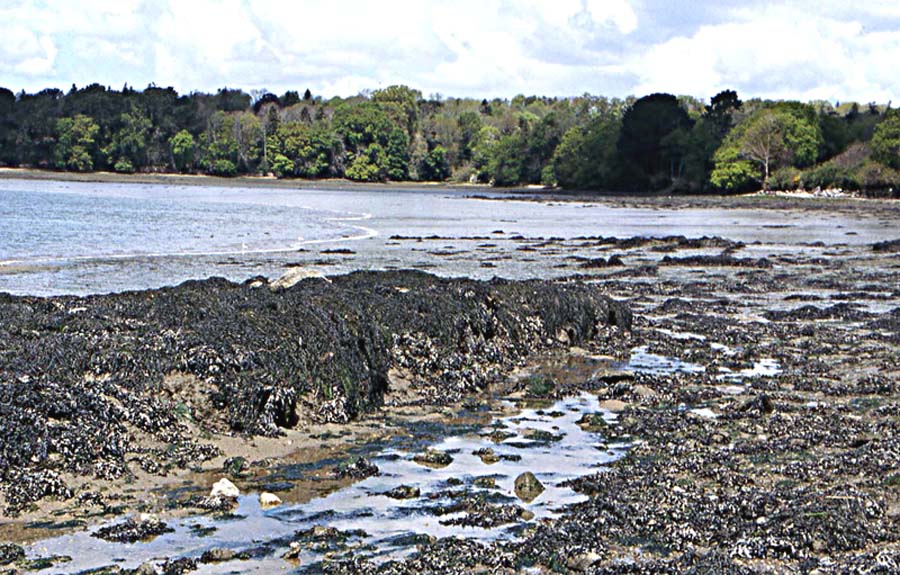 Porz guen mud flat on the left bank of Odet
-
¨
Porz Guen
¨
: mud flat on the left
bank of the river Odet, in 3 km upstream to the ¨Pointe de Combrit
¨
(free sea) (7 samples),
-
¨
Anse Saint Cadou
¨
: mud flat 12 km
upstream to the
¨
Pointe de Combrit
¨
and in 2 km of the main course of the river Odet ; this digitation of the

valley is gone through by a brook (11 samples),
-
¨
Mer Blanche
¨
: slikke and puddles on the schorre, 1 to 2,5 km from the
entry of the swamp (10 samples),
-
¨
Anse de Penfoulic
¨
: mud flat in 1 km of the entry of this small estuary (10 samples).
We have not realized a quantitative study allowing to identify the dominant species. Only was considered the number of species for the genera represented by at least 4 species in one of the 4 stations: